BudaQuelle natural mineral water – sparkling or still
Nature in its purest form - three natural water sources in Eastern Hungary supply millions of litres of thermal water with health benefits. This region is rich in medicinal water resources which, after filtering and cooling, provide perfect drinking water.
The water tastes far better than many other bottled waters in the Caribbean. Mineral water from Hungary is world renowned for its unique and outstanding quality!
The bottles shown on the right are only available in Europe. For export to countries outside Europe, we supply water in bottles made of a more durable material.
Bottles: 0.3 l, 0.5 l, 1 l or 1.5 l.
More information under
"Logistics".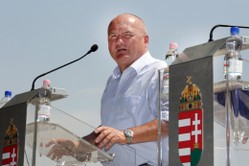 Csaba Hende, the Hungarian Minister of Defence drinks BudaQuelle mineral water products (marketed in Hungary under the brand name "AVE")